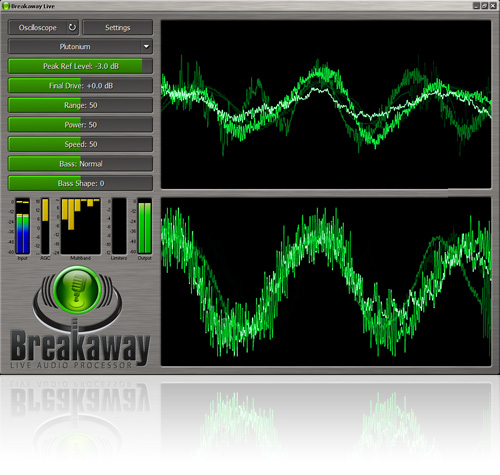 Hotel, restaurant, nightclub, and shop owners are done with tinny, scratchy muzak chasing away their customers. Breakaway Live ensures that the sound reaching your customer's ears is top quality. Whether you choose to stream music over the internet, play CDs, or use any form of digital radio, Breakaway Live's intelligent software evens and tones the audio for a fantastic listening atmosphere.
Breakaway Live is the ideal processor for anyone delivering audio content in a business setting. With automatic volume matching and equalization, this easy to use software ensures that the audio hitting your speakers is professional quality but without the professional price. Breakaway Live takes into account the music, speakers, and room to make the audio a perfect fit for your space. There is no need to deal with tangles of wires, just hook up your computer directly to the speaker amplifier. With 4 stereo outputs, Breakaway Live can send the music to multiple speakers in different rooms so the sound is consistent wherever your customer goes. You can even connect a microphone for announcements that won't make your patrons shudder!
If you are looking to reach out, Breakaway Live is a smart solution for broadcasting from home studios and mastering as well. With a microphone, monitors, and a pro soundcard, you can start digitally broadcasting. Breakaway Live has minimal delay, a truly efficient usage of computer resources, and presets to improve your sound with the touch of a button. No one needs to know you're still in your pajamas if you sound like you are at a professional radio station.
Features:
Professional grade audio processing for business, studio, mastering, microphones, monitoring, live use, and any form of digital broadcasting.
Low latency! Below 10 milliseconds with ASIO sound card makes this software real-time monitoring capable.
Supports KS/DS/Wave/ASIO.
Efficient CPU usage allows you to run simultaneous programs without interference. Live has roughly one tenth of the CPU usage compared to Breakaway Broadcast.
Live contains multiple stereo processors in one program allowing for multiple speaker hookups. Up to 4 stereo processors are licensable.
Live includes all the necessary and novel Breakaway Broadcast presets, as well as two new microphone processing presets.
Support for DSP effect and encoder plug-in.
LiveLink allows you to connect Breakaway Broadcast to Breakaway Live for high-end sound. Breakaway Broadcast can receive audio directly from Breakaway Live. To enable, select Live in the input interface selection in Breakaway Broadcast.