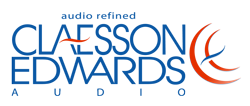 Since 2007, Claesson Edwards Audio LLC has been providing multi-band audio processing software to customers so all their media and audio content maintain the highest level of quality, consistency, and depth. Their line of professional and consumer grade programs include the Breakaway Line (Audio Enhancer, Broadcast, Live, and DJ) and the MPX Tool.
CE Audio founders Leif Claesson and Keith Edwards are two of the original founders of Octiv. Known for inventing the Volume Logic plugin for iTunes, Octiv was acquired by Plantronics in 2005 and eventually renamed Volume Logic.
The Breakaway Line is the brainchild of Leif Claesson, the original creator of the OctiMax audio processing core technology used by Volume Logic. With a completely unique audio processing algorithm, the Breakaway software has emerged as the best audio processor on the market.
CE Audio believes the digital age is no excuse for poor sounding audio.
Claesson Edwards Audio is located in California in the San Francisco Bay Area.