Airomate is an excellent RDS generator from Diffusion Software.
Breakaway Broadcast Processor has an RDS sync input, to allow using Airomate as an RDS generator.
By routing Airomate through Breakaway Broadcast, instead of the other way around, maximum stability and audio quality can be achieved.
This article will guide you through RDS setup.
First you will need to decide which Breakaway Pipeline to use as RDS transport between Airomate and Breakaway. In this example we will use Breakaway Pipeline 3.
If you're using Windows Vista, you must first prepare the pipeline to accept 192 kHz audio. Windows 2000 and XP users, skip this step.
Open the Control Panel
Hardware and Sound
Sound
Playback
Double-click on Line 3 - Breakaway Pipeline
Advanced
Select Default Format: 2 channel, 16 bit, 192000 Hz (Studio Quality)
Please note that you only have to do this for the playback end.
Breakaway and MpxTool can use Kernel Streaming (KS) to talk to drivers directly, and thus bypass shared mode completely.
Airomate configuration:
In the Airomate Settings, Audio page:
Select RDS only.
Select an unused Breakaway Pipeline as audio output.
Increase buffer size to maximum.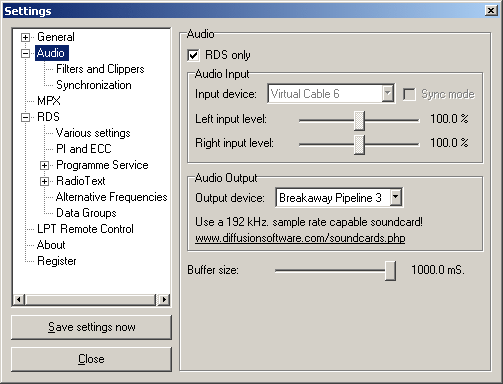 In the Airomate Settings, Synchronization page:
Enable the synchronization channel.
Set Frequency to 19000hz
Set Level to 50.0%.
Set Waveform to Sine.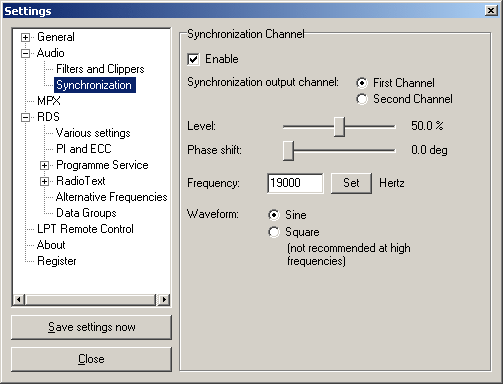 In the Airomate Settings, RDS page:
Enable RDS.
Set Level to 50%.
Set Frequency to Automatic.
In the main window:
Turn on Airomate processing.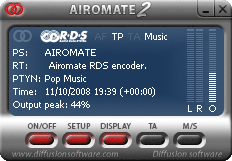 Breakaway Broadcast I/O configuration
Open the I/O configuration by right-clicking in the main window, anywhere except on the oscilloscopes, and select I/O configuration in the popup menu.
Set RDS Input Interface to KS (Kernel Streaming).
Set RDS Input Audio Device to the same pipeline you selected as Airomate Output.
Set RDS Input Rate to 192000.
Very important! Set RDS Input Channels to 2 (Mix).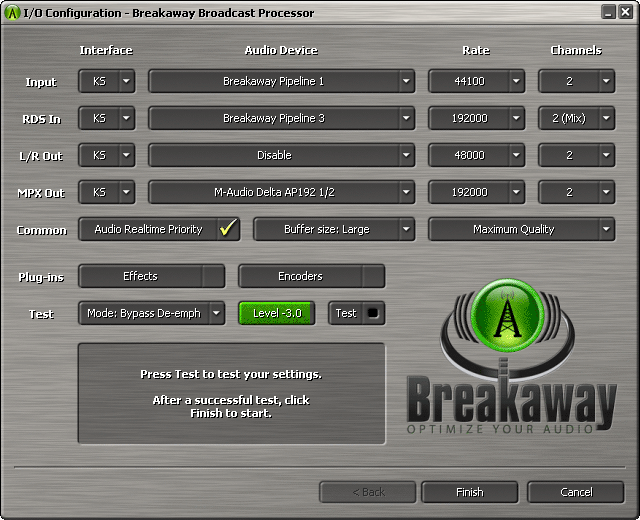 Test and Finish configuration.
Breakaway Signal Settings
Open the Breakaway Broadcast Signal Settings by pressing the Settings button in the main window.
Make sure External Pilot is Present!
Make sure the RDS level is showing a signal.
Adjust RDS Gain until you reach the RDS injection level you want - usually 2 to 4%.
Toggle the ON/OFF switch in Airomate to make sure you're seeing the correct signal.
If Airomate stops feeding the signal for any reason, Breakaway will instantly crossfade to internal pilot, avoiding any service disruption. Your station will still be on the air in stereo, regardless of Airomate. Only RDS is dependent on Airomate!
Use your MPX analyzer to verify RDS signal presence. MpxTool is used in this example.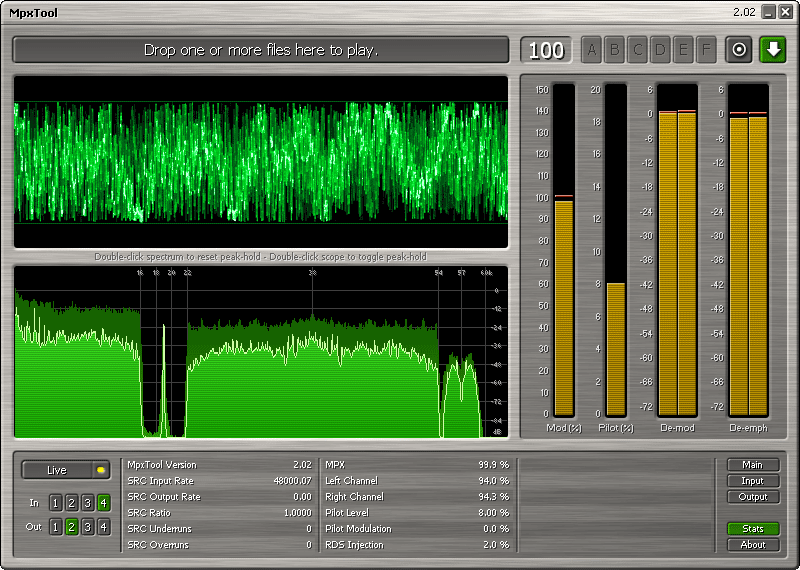 You can clearly see the RDS subcarrier between 54 and 60 kHz.
RDS setup complete!